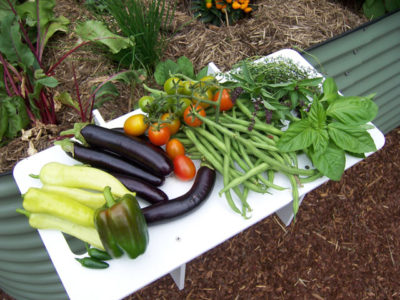 How to plant a veggie garden
How to plant Veggie gardens
How soulful it feels when you eat a homegrown tomato? Isn't it a pleasing feeling? It is, as planting a vegetable garden is like believing in tomorrow. One fine day, your hard efforts of feeding your garden will give you delicious vegetables in return.
Everyone loves good food especially if it is grown in your own veggie garden. It's the ultimate delightful feeling you get when you enjoy homegrown vegetables. Growing your own veggie garden is both fun and rewarding. Vegetable gardening is an art with a combination of some scientific techniques that you need to follow while you plant a garden. It's a wonderful learning and adventure for the whole family. Planting a veggie garden is always a fun task & is a great way to spend quality time with your children, outdoors in the sun.
No matter how big or small veggie garden you are planning to plant; there are three basic requirements for ultimate success:
Full sun: Most of the vegetables need at least 6-8 hours of direct sunlight. If they are unavailable to get enough light, then chances are that they might not bear as much and are likely to get attack from insects. So choose the spot wisely where ample sunlight is available.
Plenty of water: Since most of the vegetables aren't drought resistant, they require regular watering during dry spells. For ensuring plenty of water, keep in mind that the closer your garden is to a water source, the easier it will be for you.
Good soil: Having a good and fertile soil is imperative for any successful veggie garden plantation. Most of the vegetables give best results in moist & well-drained soil that's rich in organic properties. Apart from this, the soil temperature also plays an important role in keeping your vegetables alive and well. So always use a soil thermometer to keep track of the soil temperatures.
So you've finally decided to plant a veggie garden & to get started, all you really need is few veggie plants that you would like to grow. Now you are ready with the basic essentials & veggie plants but don't know from where to start? Don't hassle as we are here to guide you with the step-by-step guide of planting a veggie garden at your home:
Step 1:  Decide the area
The foremost thing in planting a veggie garden is to decide and measure the area where you wish to plant your garden. While deciding, make sure that you choose the spot that gets at least 8 hours of sunlight a day. Before deciding on the veggie plants to grown, do a little research on how much space each plant needs. This will make your planning easier.
Step 2:  Dig the spot
Once you've decided the area, it's time to dig deeply into the roots. If the spot you've chosen is having a grass, then you'll need to remove the sod with the use of spade or the flat shovel.
Step 3:  Prepare the soil
Now it's time to prepare the soil. Start with turning and loosening of the soil throughout the garden plot with the help of spade, hand tiller or a garden fork. If you are planning to add compost, it's the right time to pour it over the area and work it into the existing soil.
Step 4:  Make a path
Since your garden has now started growing, you'll need a place to step in while you harvest your vegetables. Either you can keep a path unplanted or you can also use some bricks or stones. It's advisable to keep the path unplanted as you will frequently need to move vining plants off the path and make them grow in a different direction.
Step 5:  Plant veggies
To plant veggies, first dig a hole with your garden trowel as much wide and deep as the root of the plant. Now mix some compost or slow release fertilizers into the soil where the plant will be rooted. Try to loosen the roots without disturbing them too much and then dig your plant into the hole. Fill the hole completely with soil till the stem part of the plant and water thoroughly. Repeat this step for all your plants. For plants that needs support like tomatoes, try to hold them properly by installing stakes so that roots are not disturbed.
Step 6:  Protect them
The final step is to protect your plants from insects or rabbits. There are many options to refrain them from entering your veggie garden. You can either use a metal net or picket fencing to cover the entire garden plot.
With these simple steps to follow, you can enjoy the pleasures of savoring delicious, sun-warmed vegetables sourced fresh directly from your backyard veggie farm. Just remember that, "A vegetable garden doesn't just feed your body rather it feeds your soul" because it's the result of your days long hard work.