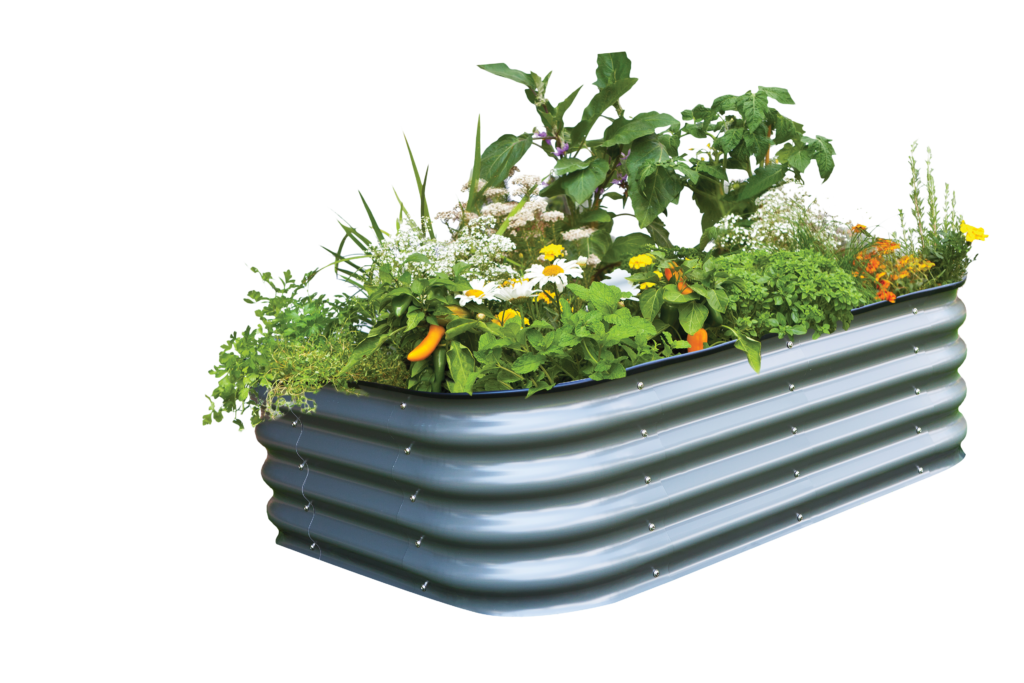 Benefits of a Raised Garden Bed
Benefits of raised garden beds
If you are a gardening fan, who wants to grow a veggie garden in the backyard space but not making use of raised garden beds for plantation, then you are surely missing on the most efficient technique of growing vegetable plants.  Building raised garden beds for plantation is a great way for new gardeners to start with their first gardening practice.
Popular for growing fruits and vegetables, raised garden beds are must if you are looking for an easier and organized way to grow vegetables. Not only this, but raised beds also boost drainage and can be used to experiment with different types of soil to your garden.
What are raised garden beds?
Raised garden beds, also known as garden boxes, are nothing but a simple box structure with no bottom that is filled with soil. In simple words, it's a garden built on top of your native soil.  It's a unique method of gardening where you don't need to dig your soil; just plant anything right from herbs to vegetables to shrubs, in a raised bed.
Raised garden beds are a boon for gardeners who can't plant because of poor soil everywhere. These raised beds gives the gardener a control over the specific soil conditions to be used for planting.  So instead of battling against poor soil conditions, you can have a complete control over the soil texture and ingredients in raised garden beds.
What are the benefits of raised garden beds?
Apart from pleasing visual effects and solution to poor soil issues in gardening, raised garden beds are a wonderful choice for veggie gardens for plenty of reasons:
Good drainage: Since soil is raised above the surrounding ground level, raised garden beds provide good & efficient drainage even in heavy rains.
Increase soil temperature: The soil warms up earlier in raised beds with better draining so that you can plant earlier and extend the growing season.
Good aeration: Like every other part of the plant, roots need to breathe. Raised beds help in good aeration as they provide the plants with a loose soil structure which allows for good air circulation around the roots.
Enhanced root health & spread: When the soil is loose, often the plants and vegetables grow faster in every direction. By retaining more moisture, these garden beds with good soil enriched with fertilizer will give the best results.
Better weed control: Raised garden beds are known for rendering few weed related problems. While getting the raised beds ready, you can fill the frames with compost and soil relatively free of weeds. The combination of loose soil and good accessibility to the beds make it easier to pull the weeds that have come up.
Aids growth: A raised garden bed helps in better growth as the rich deep soil inside the bed aids in more vigorous growth of veggie plants. Even you can plant at closer spacing making a small bed area more productive.
Soil compaction: Raised garden beds often prevent the risk of soil compaction as you do not need to walk on the soil surface in order to maintain your plants.
Less maintenance: A raised garden bed is very easy to maintain. The only tools required for maintenance are a trowel and a garden rake. Once the raised garden is ready, it will sustain only with the compost which can be added from compost bin available in the raised beds. This saves a lot of time and money as you only need to dig, fertilize and water the beds.
Easy access: Raised garden beds are easier to manage even for gardeners with physical disability or mobility issues. The person with back problems, knee problems or arthritis can enjoy the gardening since they don't have to bend down or get to the ground level. The height of the bed can be adapted as per the individual choice or situation so that it's comfortable to sit and work alongside.
Once your beds are established, you might not want to go back to regular gardening style again. So why not enjoy the nature's beauty with far less work by deployment of raised garden beds for your next gardening. It's surely an effort that will really pay off.